LED Drivers van BMF System Parts
BMF levert een breed pakket LED drivers in vermogen oplopend van enkele Watts tot enkele kWatts.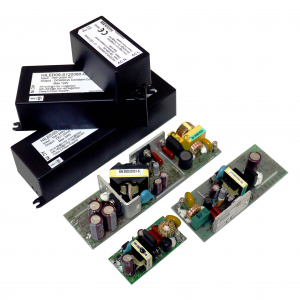 De LED drivers van BMF onderscheiden zich in de markt door de extreem hoge levensduur en de uitstekende efficiency. Afhankelijk van de applicatie heeft u als klant de keuze voor een constant voltage of een constant current oplossing.
Hieronder staat een opsomming van de belangrijkste specificaties zoals wij deze kunnen bieden voor onze led drivers:
DC, enkel of driefase ingang

Mogelijkheid voor een additionele uitgang

Uitgangsspanning oplopend tot 500 Volt

Dimming opties dmv diverse protocollen

Open frame, in plastic of aluminium behuizing

Complete integratie in een IP67 behuizing mogelijk.

Dynamische power factor

Breed temp bereik van -40 en tot 75 Graden (outdoor use)

Gewicht besparend design
Afhankelijk van de exacte eisen van het project, kan het interessant zijn om te kiezen voor een klant specifieke LED driver.
Voor meer informatie omtrent LED drivers van BMF en wat deze voor uw applicatie kunnen betekenen, nodigen wij u graag uit om contact op te nemen met een van onze ervaren productspecialisten.
Onze verschillende productcategorieën